Wilma Flintstone

Vital statistics

Position
Bedrock City Resident
Age
Unknown
Status
Unknown

Physical attributes

Height
5 ft. 3 in. (The Flintstones)

2 ft. 4 in.

Weight
150 lbs. (The Flintstones)

80 lbs. (Flintstone Kids)
Wilma Flintstone (voiced by Jean Vander Pyl) is a character from 
The Flintstones
, 
The Pebbles and Bamm-Bamm Show
,
The Flintstone Kids
, and 
Flintstone Funnies
. She is the wife of 
Fred Flintstone, the
mother of 
Pebbles Flintstone
, the owner of 
Dino
, and the best friend of 
Betty Rubble. 
Her maiden name is Slaghoople.
Personality
Edit
Wilma is more more intelligent and level-headed than her husband though she does have a habit of spending money. She often is foil to Fred's poor behavior.
Appearance
Edit
Wilma Flintstone has ginger colored hair and red lipstick. She wears a white necklace made of rocks and a one-stringed skirt that hangs down to her knees. She wears no shoes. She has a change of appearance in The Flintstone Kids mainly because every main character that is an adult in The Flintstones is a kid in The Flintstone Kids she didn't chat all except that she doesn't wear lipstick and the bun in her hair is now a pigtail that sticks up behind her head.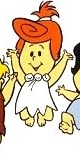 Ad blocker interference detected!
Wikia is a free-to-use site that makes money from advertising. We have a modified experience for viewers using ad blockers

Wikia is not accessible if you've made further modifications. Remove the custom ad blocker rule(s) and the page will load as expected.