Wabbit (also known as Wabbit, a Looney Tunes production) is a spin-off of Looney Tunes that premired on Boomerang on October 5, 2015. New episodes typically air on Saturday mornings and re-runs also air on Cartoon Network. It was removed on October 31, 2016, where it was replaced by The Powerpuff Girls (2016 TV Series), but it returned for one day only, on January 1, 2017, for the Looney Tunes New Year's Day Marathon.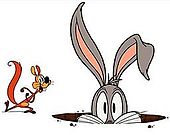 The series brings the Looney Tunes series back to its original slapstick roots after the sitcom-inspired series The Looney Tunes Show had ended its run. Each half-hour episode of Wabbit features 4 shorts, with each one featuring Bugs Bunny as the main character.
Home media
Edit
Hare-Raising Tales, a DVD set containing the first season, was released on DVD by Warner Home Video on April 26, 2016. Despite containing the full season, the package lists it as Season 1, Part 1.
Ad blocker interference detected!
Wikia is a free-to-use site that makes money from advertising. We have a modified experience for viewers using ad blockers

Wikia is not accessible if you've made further modifications. Remove the custom ad blocker rule(s) and the page will load as expected.