Wabbit (also known as Wabbit, a Looney Tunes production) is a spin-off of Looney Tunes that premired on Boomerang on October 5, 2015. New episodes typically air on Saturday mornings and re-runs also air on Cartoon Network. It was removed on October 31, 2016, where it was replaced by The Powerpuff Girls (2016 TV Series), but it returned for one day only, on January 1, 2017, for the Looney Tunes New Year's Day Marathon. After a 1-year hiatus, Wabbit returned to Boomerang's line-up in July 2017, but was removed again on August 6, 2017, where it was replaced by OK KO!: Let's Be Heroes!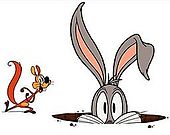 The series brings the Looney Tunes series back to its original slapstick roots after the sitcom-inspired series The Looney Tunes Show had ended its run. Each half-hour episode of Wabbit features 4 shorts, with each one featuring Bugs Bunny as the main character.
Home media
Edit
Hare-Raising Tales, a DVD set containing the first season, was released on DVD by Warner Home Video on April 26, 2016. Despite containing the full season, the package lists it as Season 1, Part 1.
Episodes
Edit
Buddha Bugs/Now and Zen/Mumkey Business
The Inside Bugs/Sun Valley Freeze/Walking Fish
St. Bugs and the Dragon/Leaf it Alone/Spiderlamb
The Bigfoot In Bed/World Wide Wabbit/Alliagtor Tears
For the Love Of Acorns/The Game is Foot/Muddy Harry
The Grim Rabbit/The Wringer/Garlicked
White House Rabbit/Bugsbarina/Whooo.. It's The Knight Owl
Not Lyin' Lion/Ice Ice Bunny/Squeaked Doom
Wabbit's Wild/All Belts Are Off/Son of Bunnicula
Wabbit's Best Friend/Annoying Ex-Boyfriend/Evil Cat Videos
Bugs vs. Snail/To Catch a Fairy/Chester's Shop of Horrors
Bugs in the Garden/Scarecrow/Curse of the Were-Dude
Painter Paint Hare/The Spy Who Bugged Me/Bride of Bunnicula
Hareplane Mode/Bugs of Steel/Nevermoar
Big Trouble/Manner Maid/Vampire Rabbit Season
Bugsfoot/Grim on Vacation/Hole of the Unworthy
Carrot Before the Horse/Trunk with Power/Adout of Vampire
Snow Rabbit/Aromatherapest/Haunted Dog House
Raising Your Spirits/Dust Bugster/Ghost Chef
Computer Bugs/Oils Well That Ends Well/Catula
Your Bunny or Your Life/Misjudgement Day/Dreamcatcher
Splashwater Bugs/Fwee Wange Wabbit/Ghost Pepper
Beaver Fever/Coyote.Rabbit.Squirrel/Dating for Dummies
Pain & Treasure/Office Rocker/Sunday Bunnday
Survivalist of the Fittest/The IMposter/Scaraoke
Bugs Over Par/Fast Fued/Bearshee
Sir Little Chin Griffin Hunted/Bugs in Time/Beware the Apartment 13!
Airpork Security/Home a Clone/Puzzle Madness
Bugs on Ice/Bugs Scouts/Return of the Curse of the Were-Dude
For Whom the Bugs Trolls/To Beach His Own/Coller Me Crazy
Five Star Bugs/Yoga to Be Kidding Me/Calender Boys
Rabbits of the Lost of Ark/Apprropriae Technology/Brussel Boy
Pork in the Road/Squeaks Upon a Star/Vampire Tick
Mile Hi Grub/Pole Position/Chesteroaldcula
Thirst Things First/Bugs of Chance/Never Been Scared
Bugs for Mayor/The Lepra-Con/Family Portrait
Squeak Show/Rodeo Bugs/My Imaginary Friend
Slugsworthy's Mega Mansion/Wile E's Walnuts/The Juicy Problem
Just One of Those Days/Mooch Housin' Syndrome/Uninvited
Sir Littlechan Unicorn Hunted/Erin Go Bugs/TBA
Proud to Be a Coal's Miner's Wabbit/Cabin Fevor/TBA
The Grand Barbari-yon/Giant Rabbit Hunters/TBA
Amusement Pork/Now You See Me, Now You Still See Me/TBA
Tis The Seasoning/Winter Blunderland/TBA
Ear! We! Go!/Hare Band/TBA
Bugs in the Petting Zoo/Hawaiian Ice/TBA
Quiet the Undertaking/Bugs Bunny?/TBA
Wet Feet/There's a Soccer Born Ever Minute/TBA
Pork Lift/Thes in the City/TBA
Elmer's Fuddger/Angelo the Mighty Flea/TBA
Gorky Pork/Hard Hat Hare/TBA
Porky's Duck-livery Service/The Wabbit Who Would Be King/TBA
Ad blocker interference detected!
Wikia is a free-to-use site that makes money from advertising. We have a modified experience for viewers using ad blockers

Wikia is not accessible if you've made further modifications. Remove the custom ad blocker rule(s) and the page will load as expected.