The New Scooby-Doo Mysteries (formerly known as The New Scooby and Scrappy-Doo Show for its first season) is the sixth incarnation of the Hanna-Barbera Saturday morning cartoon Scooby-Doo. It premiered on September 10, 1983 as The New Scooby and Scrappy-Doo Show, and ran for one season on ABC as a half-hour program made up of two eleven-minute short cartoons. In 1984, the name of the show was changed to The New Scooby-Doo Mysteries, with the actual show format remaining the same. The New Scooby-Doo Mysteries ran for another season on ABC.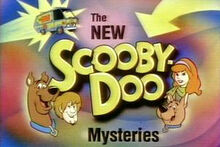 The series originally aired on Boomerang from its launch in 2000 until 2014. Although it no longer has a permanent spot on the network's line-up, it still occasionally reappears on Boomerang's line-up. It airs every year on New Year's Eve since 2015 as part of the Scooby-Doo New Year's Eve Marathon, and was shown on October 31, 2016 as part of Halloween 2016, and aired in December 2016 as part of Christmas 2016.
Premise and Format
Edit
Season one
Edit
For this incarnation of the show, Hanna-Barbera attempted to combine the most successful elements of both the original Scooby-Doo, Where Are You! format and the newer Scooby-Doo and Scrappy-Doo format. Daphne Blake, a character from the original Scooby-Doo, Where Are You! format, was added back to the cast after a four-year absence. The plots of each episode feature her, Shaggy Rogers, Scooby-Doo, and Scrappy-Doo solving supernatural mysteries under the cover of being reporters for a teen magazine. Each half-hour program was made up of two 11-minute episodes, which would upon occasion be two parts of one half-hour-long episode.
Season two
Edit
The second season of this format, broadcast as The New Scooby-Doo Mysteries in 1984, continued the same format, and included six two-part episodes featuring original Scooby-Doo characters Fred Jones and Velma Dinkley, both absent from the series for five years. Fred's last name is given as "Rogers" initially in his return appearance to the series in the episode "Happy Birthday, Scooby-Doo," although later in the same episode it is corrected as "Jones"; Rogers had been established as Shaggy's surname the previous season. The New Scooby-Doo Mysteries theme song is performed in the style of Thriller-era Michael Jackson. The accompanying opening credits feature shots of a row of monsters dancing like the zombies in Jackson's "Thriller" music video.