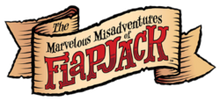 The Marvelous Misadventures of Flapjack is an American animated television series created by Thurop Van Orman for Cartoon Network that premiered in North America on June 5, 2008, to August 30, 2010. It stars creator Thurop Van Orman as the voice of Flapjack, a naive young boy who was raised by a whale named Bubbie and is mentored by a salty sea pirate called Captain K'nuckles. Together the trio they spend their days in Stormalong Harbor, where most of the show takes place, whilst on the search for the elusive Candied Island.
Its Christmas episode, "Low Tidings", was shown on Boomerang on December 24, 2014, and was available on the network's on demand service in 2015. It is unknown if the series will return to Boomerang in the future.
Ad blocker interference detected!
Wikia is a free-to-use site that makes money from advertising. We have a modified experience for viewers using ad blockers

Wikia is not accessible if you've made further modifications. Remove the custom ad blocker rule(s) and the page will load as expected.