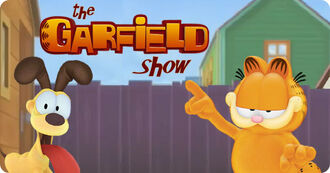 The Garfield Show is a French/American CGI animated telvision series that premiered in France on the channel France 3 on December 22, 2008. The first episodes of the series with the English language first appeared in the United Kingdom on the channel Boomerang UK on May 5, 2009. It first appeared in the United States on Cartoon Networka at 3:00pm. It also once aired on YTV in Canada. Later the show was on hiatus on May 30, 2011 and then returned on September 6 of the same year.. Once again, the show was taken off the schedule for YTV in Canada on December 23, 2011. A fourth season of The Garfields Show premiered on France 3. The series began airing in the US on November 9, 2009. The Garfield Show began airing on Boomerang on February 4, 2013. In 2014, the series was renewed for a forth season, which was released on YouTube that year and began airing on Boomerang on October 5, 2015. In 2015, the series was renewed for a fifth season, which began airing on Boomerang on October 23, 2016. The series officially ended its run on December 30, 2016, after 7 years of it airing on television and 3 years of it airing on Boomerang.
The Garfield Show mainly centers on Garfield and his usual antics and frolics as well as his laziness and love for lasagna. The series focuses on Garfield's adventures which are usually darker than in comics or in any TV show of Garfield. Garfield lives with Jon Arbuckle, his owner, and Odie, his owner's dog. The family still have a 1950's era television set and the rabbit-ears atennae, but now they have a converter box which allows the family to watch televison in HD. The premise is comedic slapstick. Usually, Garfield has to solve problems that he caused himself, but he always tries to avoid it, but ends up solving the problem in the end of the episode anyway.
During the second season Garfield starts breaking the fourth wall more often by talking to the audience and even mentioning cartoon traditions. Unlike Season 1, Season 2 began borrowing characters from previous episodes.
Main Characters
Edit
References
Edit
http://en.wikipedia.org/wiki/The_Garfield_Show http://www.bcdb.com/cartoons/Other_Studios/D/Dargaud_Productions/Garfield__amp__Cie/index.html
External Links
Edit
www.TheGarfieldShow.com http://www.imdb.com/title/tt1470837/?ref_=sr_1
Ad blocker interference detected!
Wikia is a free-to-use site that makes money from advertising. We have a modified experience for viewers using ad blockers

Wikia is not accessible if you've made further modifications. Remove the custom ad blocker rule(s) and the page will load as expected.