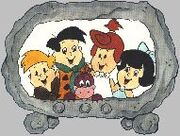 The Flintstone Kids is a 30-minute animated series spin-off of 
The Flintstones
 which followed the adventures of Fred, Barney, Wilma, Betty, and Dino as kids. The theme song beared a great resemblance to the theme song of Brass Bonanza. It lasted from September 6, 1986 to September 3, 1988. The series has been airing on Boomerang since 2004.
The series aired from 1986 to 1988 on ABC as part of the weekday/weekend programming block, The Funtastic World of Hanna-Barbera. The show was produced by Hanna-Barbera Productions. The series had 75 half-hour episodes, of which only 24 were of the main segment, The Flintstone Kids. The series also had three additional segments:
In 1988, Mary Jo Ludin and Lane Raichert were given the Humanitas Prize for an episode of the series called "Rocky's Rocky Road."
There was also a comic book series of The Flintstone Kids from Star Comics.
Main Characters
Edit
DVD Release
Edit
An episode or 2 of the series were released on Saturday Morning Cartoons of the 1980s which was released May 4, 2010.
References
Edit
http://en.wikipedia.org/wiki/The_Flintstone_Kids
External Links
Edit
http://www.imdb.com/title/tt0240265/?ref_=fn_al_tt_1 http://www.bcdb.com/cartoons/Hanna-Barbera_Studios/D-F/The_Flintstone_Kids/index.html