The Boomerang Christmas Party – This block, which aired each December until 2014, features a collection of Hanna-Barbera Christmas specials (such as The Powerpuff Girls: Twas the Fight Before Christmas, Yogi's First Christmas, Christmas Comes to Pac-Land, Casper's First Chrismas, The Jetsons' First Christmas, and The Flintstones' Christmas) In 2015, it was replaced by the current version of the block, simply titled Christmas, which featured the same format of programming. With Beauty and the Beast The Enchanted Christmas, Christmas in Tattertown, and A Muppet Family Christmas Headed to Boomerang.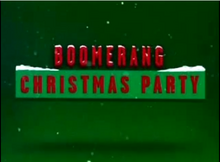 Schedule
Edit
Monday December 27 2010
Ad blocker interference detected!
Wikia is a free-to-use site that makes money from advertising. We have a modified experience for viewers using ad blockers

Wikia is not accessible if you've made further modifications. Remove the custom ad blocker rule(s) and the page will load as expected.