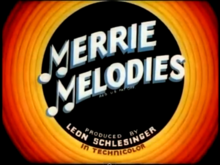 Merrie Melodies is an American animated series of comedy short films produced by Warner Bros. between 1931 and 1969, during the golden age of American animation. As with its parent series, Looney Tunes, Merrie Melodies featured some of the most famous cartoon characters ever created; including Bugs Bunny, Daffy Duck, Porky Pig and Elmer Fudd.
Merrie Melodies was originally produced by Harman-Ising Pictures from 1931 to 1933, and then Leon Schlesinger Productions from 1933 to 1944. Schlesinger sold his studio to Warner Bros. in 1944, and the newly renamed Warner Bros. Cartoons continued production until 1963. Merrie Melodies was outsourced to DePatie-Freleng Enterprises and Format Films from 1964 to 1967, and Warner Bros. Cartoons resumed production for the series' final two years.
Three of the Merrie Melodies films (Tweetie Pie, Speedy Gonzales and Birds Anonymous) won the Academy Award for Best Animated Short Film and another three (Duck Amuck, One Froggy Evening and What's Opera, Doc?) have been inducted into the National Film Registry of the Library of Congress.
In 2013, TV Guide ranked the Warner Bros. Cartoons (ranked as Looney Tunes) the third Greatest Cartoon of All Time (out of 60).
The series airs along with Looney Tunes as part of the Looney Tunes package show that airs on Boomerang.
Ad blocker interference detected!
Wikia is a free-to-use site that makes money from advertising. We have a modified experience for viewers using ad blockers

Wikia is not accessible if you've made further modifications. Remove the custom ad blocker rule(s) and the page will load as expected.