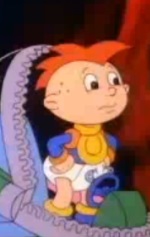 Max (voiced by Ben Ryan Ganger) is a character Fantastic Max.
Personality
Edit
Max is brave and adventurous, but his actions often winds him up in trouble. Nevertheless, Max cares for his friends and he meets. His catchphrase is "Dirty Diapers!" which he exclaims when something goes wrong.
Appearance
Edit
Max has ginger colored hair. he wears a blue shirt, he also has orange and gold colored rings on his shirt and above his shoes, he wears a white diaper which is kept together by a pin, and blue shoes. He also has freckles above his ear to the right.
Ad blocker interference detected!
Wikia is a free-to-use site that makes money from advertising. We have a modified experience for viewers using ad blockers

Wikia is not accessible if you've made further modifications. Remove the custom ad blocker rule(s) and the page will load as expected.