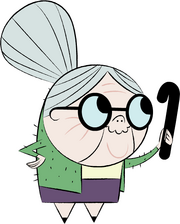 Madame Foster (voiced by Candi Milo) is a character from Foster's Home for Imaginary Friends.
Personality
Edit
Madame Foster is the founder of Foster's and is Frankie's maternal grandmother. Even though she is elderly she has childlike, boundless energy and enjoys life to the fullest.
Appearance
Edit
Madame Foster has grey hair and wears glasses, she wears a grean coat with a white shirt underneath. She wears a purple dress, pale peach colored pantyhose and black shoes. She is always seen with a black cane.
Ad blocker interference detected!
Wikia is a free-to-use site that makes money from advertising. We have a modified experience for viewers using ad blockers

Wikia is not accessible if you've made further modifications. Remove the custom ad blocker rule(s) and the page will load as expected.