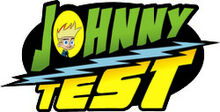 Johnny Test is an American-Canadian animated television series produced by Warner Bros. Animation, for the first season, and Cookie Jar, for the remainder of the series. It premiered on Kids' WB, on September 17, 2005, which continued to air the series through its second and third seasons. The rest of the series aired on Cartoon Network, from its debut on January 7, 2008, in the United States and internationally. In Canada, the series airs on Teletoon, premiering September 8, 2006. It aired on Boomerang from 2012 to April 2, 2013 and again from September 7, 2015 to June 26, 2016.
The series revolves around the adventures of the title character, Johnny Test, an 11-year-old suburban boy who lives with his super-genius 13-year-old twin sisters, Susan and Mary, both of whom are scientists. They reside in the fictional town of Porkbelly. Johnny is often used as a test subject for his genius twin sisters' inventions and experiments, which range from gadgets to superpowers. Their experiments often cause problems that he must resolve and he must sometimes fight villains in the process. He occasionally saves the world with his sisters' inventions.
Ad blocker interference detected!
Wikia is a free-to-use site that makes money from advertising. We have a modified experience for viewers using ad blockers

Wikia is not accessible if you've made further modifications. Remove the custom ad blocker rule(s) and the page will load as expected.