Hole in the Wall was an American adaptation of the Japanese game show, Nokabe (which translates to Brain Wall in English). In the game, players must convert themselves to fit through cutouts in a large 13 feet (4 meters) by 7.5 feet (2.3 meters) Styrofoam wall moving towards them on a 50 feet (15 meter) track. The show was produced by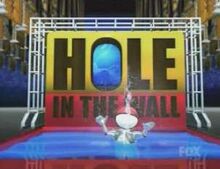 The show originally aired on Fox from 2008 to 2009, and lasted 26 episodes. After a one-year hiatus, it returned to TV on Cartoon Network for 4 more seasons from 2010 to 2012, with 40 episodes airing there. Boomerang aired the series from 2010 to 2011, making it one of the only live-action shows that aired on Boomerang in the United States.
Ad blocker interference detected!
Wikia is a free-to-use site that makes money from advertising. We have a modified experience for viewers using ad blockers

Wikia is not accessible if you've made further modifications. Remove the custom ad blocker rule(s) and the page will load as expected.