Hanna-Barbera's Cartoon Corral Classic Hanna-Barbera Cartoons It's On Boomerang, Cartoon Network's Sister Channel With Favorite Characters: Yogi Bear Huckleberry Hound Snagglepuss Augie Doggie and Doggie Daddy Top Cat Pixie and Dixie Atom Ant Secret Squirrel Hillbilly Bears Wacky Races Jonny Quest And Many More.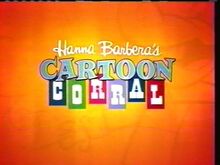 Final Programming
Edit
Yogi Bear
Huckleberry Hound
Snagglepuss
Snooper and Babbler
Atom Ant
Augie Doggie And Doggie Daddy
Top Cat
Pixie and Dixie and Mr. Jinks
Magilla Gorilla
Quick Draw McGraw
Yakky Doodle
Loopy De Loop
Hillbilly Bears
Winsome Witch
Precious Pupp
Secret Squirrel
Jonny Quest
Scooby-Doo!
Wacky Races
The Great Grape Ape
The Flintstones
The Jetsons
Peter Potamus and So-So
Punkin' Puss and Mushmouse
Lippy The Lion And Hardy Har Har
The Snorks
The Smurfs
Ricochet Rabbit and Ding-a-Long
Yippee, Yappee, and Yahooey
Breezly and Sneezly
Wally Gator
Touche Turtle and Dum Dum
Ad blocker interference detected!
Wikia is a free-to-use site that makes money from advertising. We have a modified experience for viewers using ad blockers

Wikia is not accessible if you've made further modifications. Remove the custom ad blocker rule(s) and the page will load as expected.