Home media releases of Grojband.
The titles were released by Shock Entertainment
Season 1, Part 1: Rock On! Edit
Release date: June 4, 2014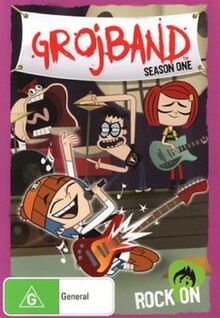 Episodes included:
Monster of Rock/One Plant Band
Cloudy With A Chance Of Malt Balls/Dance of the Dead
Creepaway Camp/Zoohouse Rock
Smash Up Terby/Queen Bee
Pox N Roll/No Strings Attached
Dreamreaver Part 1/Dreamreaver Part 2
Indie Road Rager/Math of Kon
All You Need is Cake/Helmet
Space Jammin'/Wish Upon a Jug
Super Zeroes/A Knight to Remember
Line of Cred/Hair Today, Kon Tomorrow
On the Air and Out to Sea/Ahead Of Our Tone
Love in a Nethervator/Six Strings of Evil
Season 1, Part 2: Hear Us Rock! Edit
Release date: June 4, 2014
Ad blocker interference detected!
Wikia is a free-to-use site that makes money from advertising. We have a modified experience for viewers using ad blockers

Wikia is not accessible if you've made further modifications. Remove the custom ad blocker rule(s) and the page will load as expected.