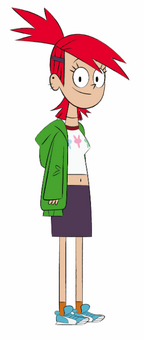 Frankie (voiced by Grey Delisle) is a character from Foster's Home for Imaginary Friends. She is Madame Foster's 22 year old granddaughter.
Personality
Edit
Frankie is the caregiver at Foster's and helps keep everything in order. Having to take care of everything in the house has put a lot of stress on her and has made her mean.
Appearance
Edit
Frankie has red hair. she wears a white shirt with 2 blue rabbits and 1 pink rabbit on it, her belly can be seen at the end of her shirt, she wears a green jacket and a purple dress, she has orange socks and blue and white shoes.
FusionFall
Edit
Frankie has made an appearance fusionfall, so has all the other imaginary friends. Frankie is anime and has more detail than her original cartoon.
Ad blocker interference detected!
Wikia is a free-to-use site that makes money from advertising. We have a modified experience for viewers using ad blockers

Wikia is not accessible if you've made further modifications. Remove the custom ad blocker rule(s) and the page will load as expected.