Codename: Kids Next Door is an American animated series that originally aired on Cartoon Network from 2002 to 2008. It made its offical Boomerang debut on July 2, 2016 as part of Cartoon Network Retro, and originally ended on October 2, 2016. (Although the show's Halloween episode, "Operation: T.R.I.C.K.Y." was shown on Boomerang in October 2014) The show also currently airs on Boomerang Australia. It's Christmas episodes were shown on December 21, 2016 as part of Christmas 2016, and the series returned to Boomerang's line-up (once again as part of Cartoon Network Retro) on February 6, 2017, replacing Pokémon and therefore expanding the block to every night at 10 pm, and left the schedule again on March 6, 2017. The series returned to Boomerang's line-up on January 2, 2018, after Cartoon Network Retro ended its run on April 3, 2017.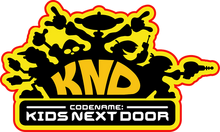 The series follows a group of kids who are spies that are each reffered to only as a "numbah", such as "Numbah One", the leader of the group. Together, the five kids form the Kids Next Door (or KND for short). In each episode, the KND fight their way against bad guys and traps in order to save the day.
Ad blocker interference detected!
Wikia is a free-to-use site that makes money from advertising. We have a modified experience for viewers using ad blockers

Wikia is not accessible if you've made further modifications. Remove the custom ad blocker rule(s) and the page will load as expected.