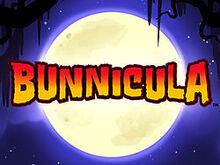 Bunnicula is an American animated series produced by Warner Bros. Animation that premired on Boomerang on Febuary 6, 2016. It is one of Boomerang's first original programing. Re-runs also air on Cartoon Network. It also airs on Boomerang in Europe and other countries, and in Canada the show airs on Teletoon. Currently, the show is on a hiatus, as the show is not on Boomerang's July 2016 TV Schedule. Some of the episodes that have been shown in the European Boomerang have not yet been shown in the US, and it is currently unknown when they will air in America.
The show is based on the book series with the same name by James Howe and Deborah Howe, which follows a vampire rabbit named Bunnicula (a pun on both "bunny" and "Dracula"), who likes to suck the juice out of vegtables instead of blood. He was adopted by a girl named Mina (not to be confused with Mina Beff from Grojband), who also owns a dog named Harold and a cat named Chester. Bunnicula always gets Harold and Chester into dangerous situations involving the supernatural, but they always find a way out.
Episodes
Edit
Mumkey Business
Walking Fish
Spiderlamb
Alligator Tears
Muddy Harry
Garlicked
Whooo Is... The Knight Owl
Squeaked Doom
Son of Bunnicula
Evil Cat Videos
Chester's Shop of Horrors
Curse of the Were-Dude
Bride of Bunnicula
Nevermoar
Vampire Rabbit Season
Hole of the Unworthy
Adout of Vampire
Haunted Dog House
Lucky Vampire's Foot
Ghost Chef
Catula
Dreamcatcher
Ghost Pepper
Dating for Dummies
Sunday Bunnday
Scaraoke
Bearshee
Beware the Apartment 13!
Puzzle Madness
Return of the Curse of the Were-Dude
Coller Me Crazy
Calender Boys
Brussel Boy
Vampire Tick
Chestroldcula
Never Been Scared
Family Portrait
My Imaginary Friend
The Juicy Problem
Uninvited
TBA
TBA
TBA
TBA
TBA
TBA
TBA
TBA
TBA
TBA
TBA
TBA
Ad blocker interference detected!
Wikia is a free-to-use site that makes money from advertising. We have a modified experience for viewers using ad blockers

Wikia is not accessible if you've made further modifications. Remove the custom ad blocker rule(s) and the page will load as expected.