Boomerang Theater – Boomerang's movie showcase block; it is shown at varying times. However, It always airs on weekend afternoons from 3:00 to 5:00 p.m. Eastern, with the end time varying depending on the telecasted film's length.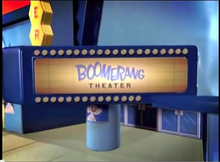 Movies featured
Edit
When the block launched, it featured movies (both theatrical and television films) based on Hanna-Barbera properties, including Yogi's Great Escape, The Man Named Flintstone, Rockin' With Judy Jetson, and The Good, the Bad, and Huckleberry Hound.
When the channel changed its focus to more modern content on June 1, 2014, the block rebranded. The block now airs mainly direct-to-video films based on Tom and Jerry, Scooby-Doo!, and Pokemon, as well as original movies based on archival shows from Cartoon Network, such as Dexter's Laboratory: Ego Trip, The Powerpuff Girls Movie, Codename: Kids Next Door: Operation: ZERO and Foster's Home for Imaginary Friends's television movies.
Movies On Boomerang Theater UK(2002-2018)
Edit
A Flintstone Christmas(1984)(2004 TV)
A Flintstone's Christmas Carol(1999)(2004 TV)
Aloha, Scooby-Doo!(2005)(2008 TV)
Alpha and Omega(2010)
An American Tail(2001 film)(2007 TV)
An American Tail:Fievel Goes West(2003 film)(2009 TV)
Balto(1993)(2000 TV)
Balto II:Wolf Quest(1998)(2002 TV)
Balto III:Wings Of Change(2000)(2003 TV)
The Banana Splits In Hocus Pocus Park(2002)(2005 TV)
Batman:Mask Of The Phantasm(1996)(2003 TV)
Batman:Mystery Of The Batwoman(1998)(2004 TV)
Billy and Mandy's Big Boogey Adventure(2007)(2008 TV)
Cats Don't Dance!(2002)(2006 TV)
Chicken Run(2000)(2004 TV)
Chill Out, Scooby-Doo!(2007)(2007 TV)
Clifford's Really Big Movie!(2002)(2005 TV)
Codename:Kids Next Door - Operation:ZERO(2006)(????)
Daffy Duck's Quackbusters(1992)(2003 TV)
Delgo(2008)(2009 TV)
Dexter's Laboratory:Ego Trip(1999)(2008 TV)
Doogal:The Magic Roundabout(2007)(2008 TV)
Ed Edd and Eddy's Big Picture Show(2009)(2010 TV)
Flintstones: Little Big League(2005)(2006 TV)
The Flintstones Meet Rockula And Frankenstone(1990)(TBA)
The Flintstones:Fred's Final Fling
The Flintstones:Jogging Fever
The Flintstones:Wind-Up Wilma!
Follow That Bird!(2004)(2007 TV)
Foster's Home For Imaginary Friends:Destination Imagination(2008)(2009 TV)
Foster's Home For Imaginary Friends:House of Bloos(2004)(2006 TV)
The Good, The Bad, And Huckleberry Hound!(1995)(????)
The Halloween Tree(1986)(2000 TV)
Here Comes Peter Cottontail:The Movie(1995)(2000 TV)
Hey There, It's Yogi Bear!(2010)(2012 TV
I Yabba-Dabba-Do!(1996)(2003 TV)
The Jetsons Meet The Flintstones(1990)(????)Nothing
Jonny Quest VS The Cyber Insects(1995)(2000 TV)
Jonny's Golden Quest(1998)(2002 TV)
The Man Called Flintstone(1984)(2001 TV)
Muppets From Space(2005)(2008 TV)
Pokémon:Arceus And The Jewel Of Life(2010)(2018 TV)
Pokémon:Giratina And The Sky Warrior(2006)(2012 TV)
Pokémon:Kyurem VS The Sword Of Justice(2013)(2018 TV)
Pokémon:Lucario And The Mystery Of Mew(2005)(2010 TV)
Pokémon:Ranger And T'he Temple Of The Sea(2006)(????)
Pokémon:Zoroark - Master Of Illusions(2015)(2018 TV)    
Popeye:Theatre!Shorts!(2010)(2010 TV)
Popeye The Sailor Meets Aladdin And His Wonderful Lamp
Popeye The Sailor Meets Ali Baba's Forty Thieves(1985)
The Powerpuff Girls Movie(2002)(2018 TV)
Quest For Camelot(2005)(2010 TV)
Race For You're Life: Charlie Brown!(1995)(2000 TV)
Road To El Dorado(1995)(2002 TV)
Rocking With Judy Jetson(????)
Rover Dangerfield(2002)(2003 TV)
Samurai Jack:The Legend Begins(2002)(2005 TV)
Scooby Goes Hollywood(2005)(2007 TV)
Scooby-Doo And The Alien Invaders(????)
Scooby-Doo And The Cyber Chase(2001)(2002 TV)
Scooby-Doo And The Ghoul School
Scooby-Doo And The Legend O'f The Vampire(2001)(????)
Scooby-Doo And The Monster Of Mexico
Scooby-Doo And The Reluctant Werewolf(2001)(2003 TV)
Scooby-Doo And The Witch's Ghost(2001)(2004 TV)
Scooby-Doo!Frankencreepy!(2016)(2018 TV)
Scooby-Doo In Where's My Mummy?(2005)(2006 TV)
Scooby-Doo Meets The Boo Brothers!(????)
Scooby-Doo On Zombie Island
Scooby-Doo!WrestleMania!Mystery!(2016)(2017 TV)
Scooby-Doo's Arabian Nights!(????)
Sinbad:Legend Of The Seven Seas(2001)(2005 TV)
Spirit Stallion of the Cimarron(2002)
Teen Titans:Trouble In Tokyo(????)
The Adventures Of Elmo In Grouchland(2004)(2009 TV)
The Little Engine That Could(2010)
The Road to El-Dorado(2001 TV edit)
The Toy Warrior
Tom And Jerry:Blast Off To Mars(2005)(2006 TV)
Tom And Jerry:The Fast And The Furry
Tom and Jerry: The Magic Ring
Tom and Jerry: Wizard of Oz
Tom and Jerry Meet Sherlock Holmes
Tom and Jerry's Giant Adventure
Top Cat and the Beverly Hills Cats
Twice Upon a Time
Wakko's Wish
Wallace And Gromit:The Curse Of Were-Rabbit!(2005)(????)
We're Back!:A Dinosaur Story!(1985)(2000 TV)
Yogi And The Magical Flight Of The Spruce-Goose!(1982)
Yogi Bear And The Invasion Of The Space-Bears!(1985)
Yogi The Easter-Bear!(2000)(2001 TV)
Yogi's Ark-Lark!(1995)(2006 TV)
Yogi's First Christmas(1990)(2004 TV)
Yogi's Great Escape!(1992)(2000 TV)
Ad blocker interference detected!
Wikia is a free-to-use site that makes money from advertising. We have a modified experience for viewers using ad blockers

Wikia is not accessible if you've made further modifications. Remove the custom ad blocker rule(s) and the page will load as expected.