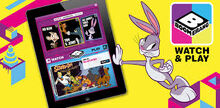 Boomerang Streaming is, as the name suggests, Boomerang's streaming service app, which launched on April 11, 2017.
The service provides many of Boomerang's archival content from Hanna-Barbera, including programs that have been removed from the network's own line-up before the launch of the app, such as The Flintstones, The Jetsons, Yogi Bear, Tom and Jerry, and Huckleberry Hound. However, the service also provides archival original content from Cartoon Network, such as Courage the Cowardly Dog, My Gym Partner's A Monkey, and The Life and Times of Juniper Lee, as well as Boomerang's original and acquired content, such as Wabbit, Be Cool, Scooby-Doo!, and Bunnicula. The price for the app is either $4.99 a month or $39.99 annually (with a 30-day free trial available). New content is added to the app weekly.
Ad blocker interference detected!
Wikia is a free-to-use site that makes money from advertising. We have a modified experience for viewers using ad blockers

Wikia is not accessible if you've made further modifications. Remove the custom ad blocker rule(s) and the page will load as expected.