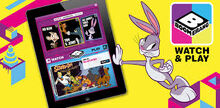 Boomerang Streaming is, as the name suggests, Boomerang's streaming service app, which launched on April 11, 2017.
The service provides many of Boomerang's archival content from Hanna-Barbera, including programs that have been removed from the network's own line-up before the launch of the app, such as The Flintstones, The Jetsons, Yogi Bear, Scooby-Doo, Where Are You! and Huckleberry Hound. However, the service also provides archival original content from Cartoon Network, such as Courage the Cowardly Dog, My Gym Partner's A Monkey, and The Life and Times of Juniper Lee, as well as Boomerang's original and acquired content, such as Wabbit, Be Cool, Scooby-Doo!, and Bunnicula. The price for the app is either $4.99 a month or $39.99 annually (with a 30-day free trial available). New content is added to the app weekly.
Programs
Edit
Currently Available to Sream
Edit
Movies and Specials Edit
A Christmas Story
A Flintstone Christmas
A Flintstone Christmas Carol
A Flintstone Family Christmas
A Garfield Christmas
Aloha Scooby Doo
Casper's First Christmas
Casper's Halloween Special
Chill Out, Scooby Doo
Christmas Comes to Pac-Land
Garfield Gets a Life
Garfield Goes Hollywood
Garfield in Paradise
Garfield in the Rough
Garfield on the Town
Garfield's Babes and Bullets
Garfield's Feline Fantasies
Garfield's Halloween Adventure
Garfield's Thanksgiving
Here Comes Garfield
Hey There, It's Yogi Bear!
Horton Hears a Who
Jack and the Beanstalk
Scooby Doo's Arabian Nights
Scooby Doo and the Alien Invaders
Scooby Doo and the Ghoul School
Scooby Doo and the Monster of Mexico
Scooby Doo and the Reluctant Werewolf
Scooby Doo and the Spooky Scarecrow
Scooby Doo and the Witch's Ghost
Scooby Doo and WWE: Curse of the Speed Demon
Scooby Doo: Camp Scare
Scooby Doo: Curse of the Lake Monster
Scooby Doo: Haunted Holidays

Scooby Doo Meets the Boo Brothers

Scooby Doo: Music of the Vampire
Scooby Doo: Shaggy's Showdown
The Cabbage Patch Kids First Christmas
The Flintstones Meet Rockula and Frankenstone
The Good, The Bad and the Huckleberry Hound
The Jetsons Meet the Flintstones
The Smurfs Christmas Special
The Town That Santa Forgot
Tis the Season to Be Smurfy
Tom and Jerry's 50th Birthday Bash
Tom and Jerry: A Nutcracker Tale
Tom and Jerry: Blast Off to Mars
Tom and Jerry meet Sherlock Holmes
Tom and Jerry: Santa's Little Helpers
Tom and Jerry: Shiver Me Whiskers
Tom and Jerry and the Wizard of Oz
Yogi Bear's All-Star Comedy Christmas Caper
Yogi's First Christmas
Yogi's Great Escape
Yogi the Easter Bear
Ad blocker interference detected!
Wikia is a free-to-use site that makes money from advertising. We have a modified experience for viewers using ad blockers

Wikia is not accessible if you've made further modifications. Remove the custom ad blocker rule(s) and the page will load as expected.