Blue Sky Studios 
is an american Animation Studios.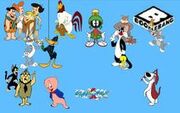 Flims From Blue Sky Studios
Edit
Ice Age
Robots
Ice Age The Meltdown
Dr. Seuss Horton Hears a Who!
Ice Age Dawn of the Dinosaurs
Rio
Ice Age Continental Drift
Epic
Rio 2
The Peanuts Movie
Ice Age Collison Course
Ferdinand
Anubis
Pigeon Impossible
Mutts
Alienology
Frogkisser!
Escape From Hat
Television Specials From Blue Sky Studios
Edit
Ice Age: A Mammoth Christmas
Ice Age: The Great Egg-Scapade
Short Flims From Blue Sky Studios
Edit
Bunny
Gone Nutty
Aunt Franny's Tour of Booty
No Time for Nuts
Surviving Sid
Umberlacorn
Cosmic Scart-tastrophe
Scrat: Spaced Out
Ad blocker interference detected!
Wikia is a free-to-use site that makes money from advertising. We have a modified experience for viewers using ad blockers

Wikia is not accessible if you've made further modifications. Remove the custom ad blocker rule(s) and the page will load as expected.